Creative office space

:office space that encourages employee's creativity
In addition to the passage and the winter gardens, the workspace is designed to en-courage unplanned and informal meetings on one hand, and to promote creativity on the other hand. In Germany, cubicle style offices are quite common, but for the LAC, we decided to create an open space where 20 to 40 people could work together, as it is the case in Japan or in the U.S. By doing so, we hoped to en-courage better communication either verbal or non-verbal between the people. It is clear that, beforehand, deep thinking and deep planning had to be made, to avoid a feeling from the staff of being observed at all times, or alternatively, for the same staff to resent the presence of unexpected strangers in their work space (Christoph INGENHOVEN).
The above goals were achieved by dividing the vast space into segments and by incorporating various devices to promote active com-munication whilst securing enough privacy for each employee. One of those devices was the creation of winter gardens facing the offices on the longer side, which makes each workspace a very special and distinctive area. Even the employees working in the centre of the office space will not have a feeling of claustrophobia as they are able to see the gardens on the other side of the glass wall. A further device was the use of specially-designed shelves which were created by "Ingenhoven Architects" in collaboration with Vitra, a furniture manu-facturer to act as small partitions and ulti-mately, to reduce unwanted visual contact.
Regarding the top floor with its very high ceiling, Ingenhoven Architects divided the area by incorporating terraces over the atrium, making it therefore possible to have both: cubicles and open office space. The offices are ecologically friendly. Firstly, the sun's heat and the ambient noise are greatly reduced by the winter gardens and the double-skin facades which both act as buffer zones. The space sandwiched within the double-skin facade is equipped with remote-controlled roller blinds that act as sunshades and protect people from the sun's heat and the sunlight.
The air-conditioning system uses a hot/cold water circulating system, with temperature between 28°C and 30°C in winter and 18°C in summer, which applies to the entire building temperature.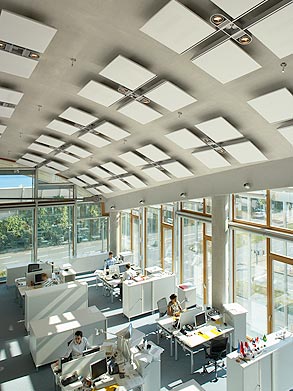 Open space that offers a pleasant working environment and easy communication.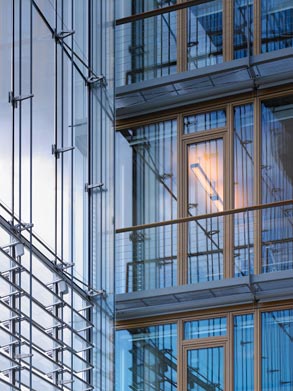 Three types of facades meet in one point: The cable net façade of the atrium, the insulating double-skin façade and the wood-framed timber glass façade facing the winter garden.