Travel around the world
- gardens with diversity

/ Collaboration with various artists
Travel around the world

- gardens with diversity
The winter gardens which are currently nine - after expansion the number will extend to 28 - are not only very practical buffer zones, but they also represent a great achievement in design. We worked closely with the landscape architect Klaus KLEIN to create these beautiful theme gardens which are meant to represent, on one hand, the diversity of the five continents which the Lufthansa Aircraft Company connects and, on the other hand the international character of the company. As a result, the gardens recreate specific parts of the world like, for example, northern Italy, the exotic Middle East, the beaches of California, the red soil of Australia, bamboo gardens from the Orient, distinctive stone path gardens from Japan and the cliffs of South Africa.
The specific character of each garden enables people to find their way more easily through the centre which could be a difficult task - at times - in view of its large surface. There is a terrace above the meeting room, from which the employees can enjoy the panoramic view of the winter gardens. (Christoph INGENHOVEN)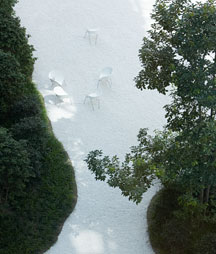 Camellia garden with camphor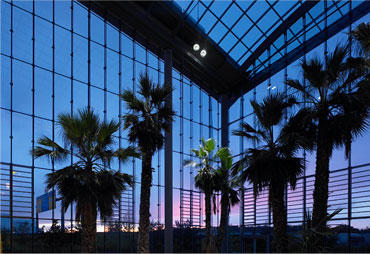 Garden "Beach" with palms (Mexican Washington palm).
Collaboration with various artists
As in the RWE Tower and other Ingenhoven's projects many artworks are integrated into the LAC. Right in front of the entrance, an artwork by Liam GILLICK can be seen which consists of large rows of letters, circling around the pillars. Normally one would expect to find the company's logo in such a strategic place. Instead, one is surprised to see incompre-hensible long words as for example, the word "oneunitofenergyoneunitofoutput" which incl-udes key words like "energy" and "output". Other artists involved, include Carsten NICOLAI who applied strips of metal to the surface of the ground floor passage, Cerith WYN EVANS who created an aviation light network above the floor, Michael BEUTLER who hung pagodas in a winter garden named "oasis", Thomas DEMAND who created the "green" wall of the cafeteria on the top floor.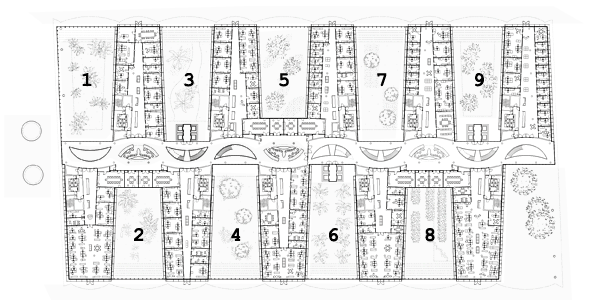 The winter garden block plan
| No. | Theme | Culture | Name of trees |
| --- | --- | --- | --- |
| 1 | Beach | Los Angeles/California | Mexican washington palm |
| 2 | Cape | South Africa | Strelitzia |
| 3 | Lago | Lake Maggiore/Northern Italy | Hemp palm |
| 4 | Outback | Australia | Grevillea |
| 5 | Tea | Himalaya/Malaysian/Sri Lanka | Cinnamomum |
| 6 | Oasis | Desert | Date Palm |
| 7 | Camellia | Asia | Camellia |
| 8 | Bamboo | Japan | Bamboo |
| 9 | Zen | China/Japan | Bamboo |