Future ecological and transparent building

EIB-The European Investment Bank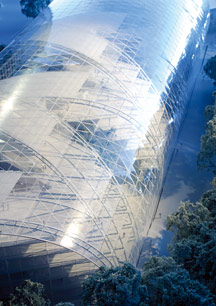 Model of EIB, Luxembourg.
The EIB's new building stands on the Kirchbergplateau in the city of Luxembourg over an area of 70,000 square meters. The building which represents the European headquarter of the investment bank is a fine example of very well planned designs, which were meant to facilitate the daily work of 800 employees and to ease communication between them at all levels.
A transparent vaulted glass sheath spans over the V-plan of the buildings. These are connected to each other by atriums and interior theme gardens herein called "winter gardens", which act as temperature buffer zones and therefore help reducing energy consumption.
Thanks its ecological approach, the EIB was certified as very good by BREEAM * for the first time in Europe (*The British Building Research Establishment Environmental Assessment Method). As a matter of fact, the building concept can be summarized in two words: ecology and transparency. Ecology - because of the natural interaction between the building's structure and its surroundings. Transparency - because the new building will combine the unique association of a steel and glass superstructure, providing maximum daylight and brightness to its occupants.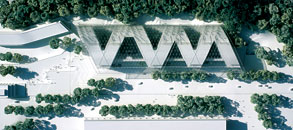 Model of EIB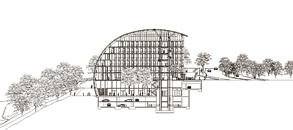 Section of EIB