A self-supplying energy house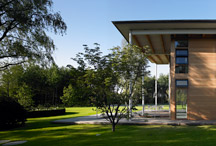 Outside view of the self-supplying energy house
This detached house situated near Duesseldorf was designed according to strict ecological and environmental-friendly concepts. This meant using unprocessed materials, which were less likely to cause lasting damages. Technically, this meant avoiding electromagnetic pollution and radon emissions and generating power from renewable sources. This resulted in the design of a progressive and future orientated architecture - ecologically sound and safe.
The energy consumption is well under the building energy saving regulations in Germany, and the heating is supplied by three sources: 85% of the annual requirements are provided by a thermal solar system together with a ground heat pump. However, in periods of high consumption, warm water is produced from a wood pellet fuelled heating system. The floor-heating system in the rooms is linked in summer to an earth generated cooling system, which maintains the rooms to a pleasant temperature. The garden and the vegetation outside are watered by rainwater, which is collected and then kept in a cistern. If ne-cessary, this rainwater could also be diverted to the house water supply system. At the moment, the electricity is supplied by ecological and renewable sources through the normal public providers, although the roofs have been designed for photovoltaic solar energy if need-ed at a later stage.
A custom-made computerized installation system controls the light and ventilation coming from the windows in each room of the house to provide the adequate room atomosphere.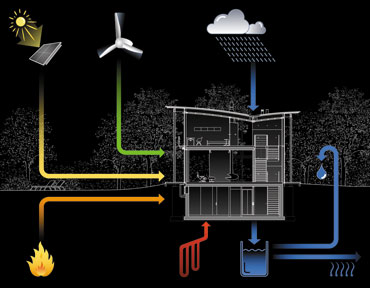 Figure how self-supplying energy house uses natural energy.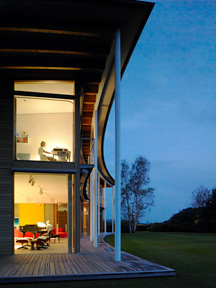 Outside view of the self-supplying energy house